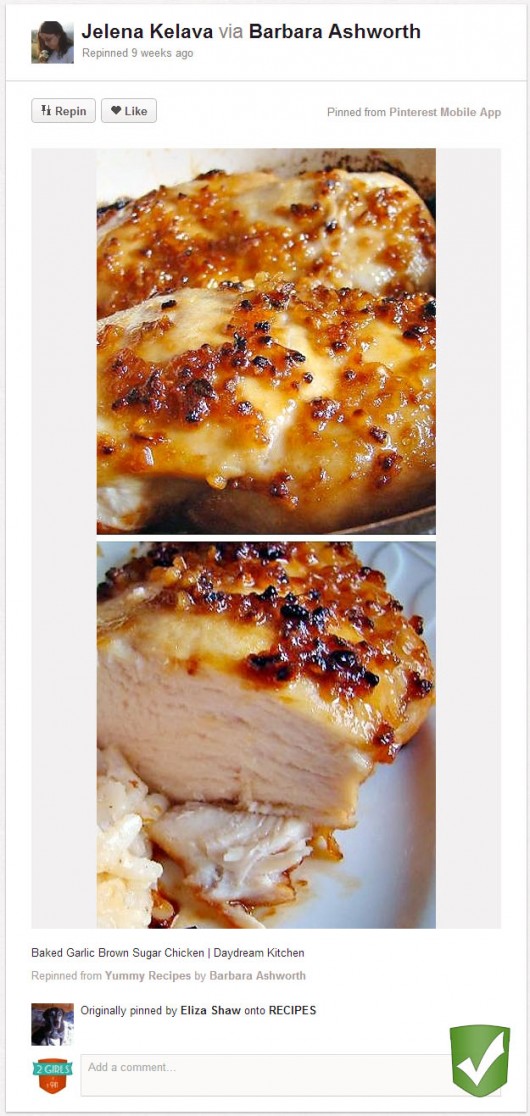 This pin has been sitting in our queue for a while now. Its picture looks so deliciously appetizing while its ingredients seem so simple and straightforward. However, the fact that the directions instruct you to cook whole chicken breasts on a very high temperature (500°F) for only 15-30 minutes (which is a rather big range…I mean, there's a big difference between cooking something for 15 minutes and cooking it for 30 at 500°F) always kept me away from actually trying this one out. As fate would have it, the other half of 2girlsandapin, Anar, was actually a lot braver and told me that this actually turned out really great as a quick dinner fix for her one night. So, it was decided – if you're anything like me and have been gawking this recipe for months without committing to try it out, 2girlsandapin were going to test it out and finally give this pin a chance and tell you all about it!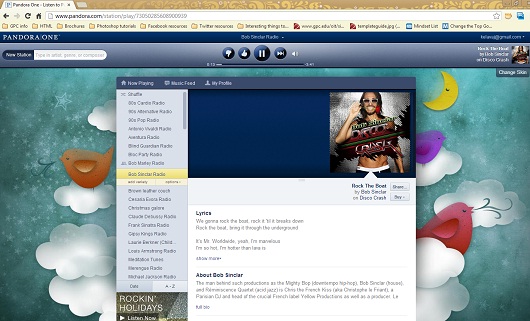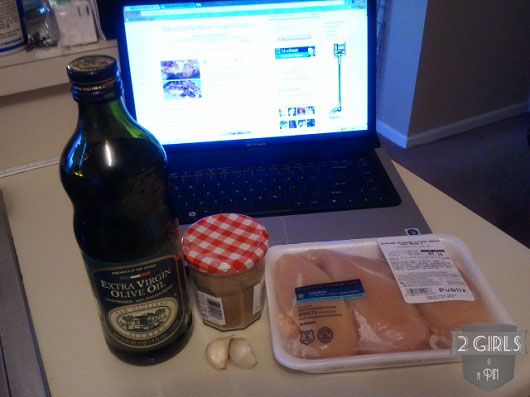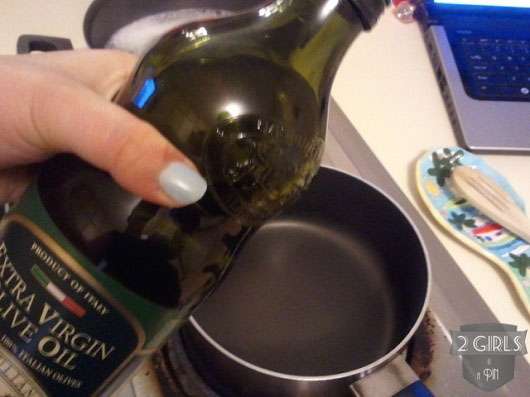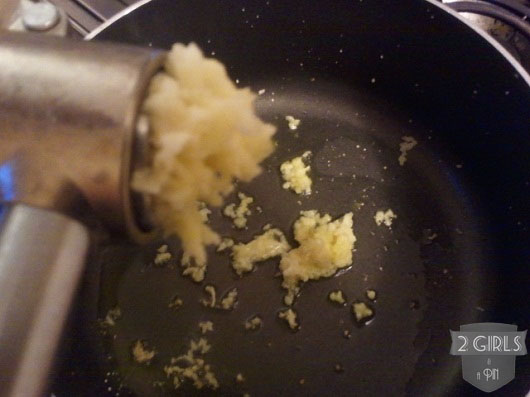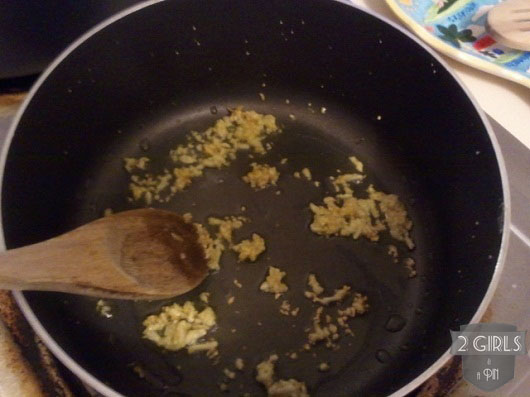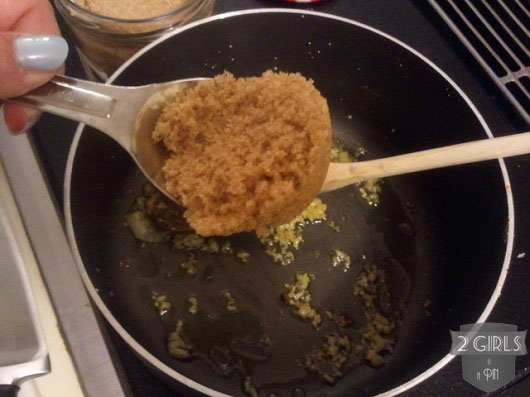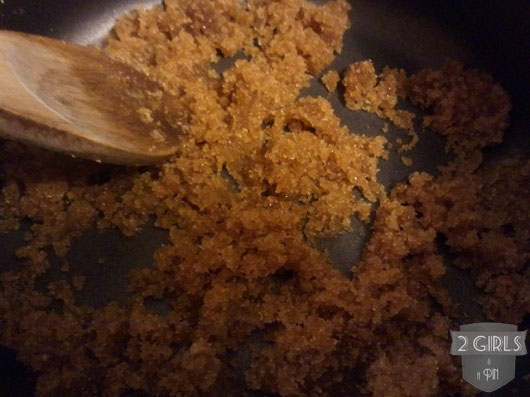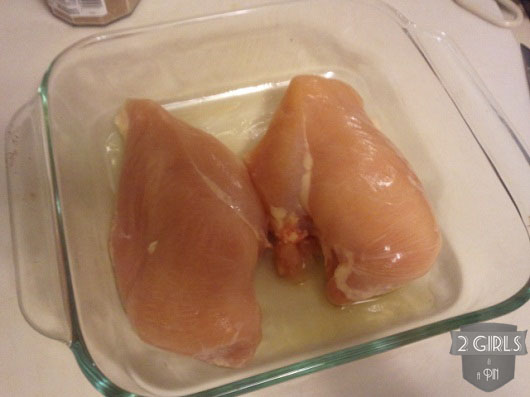 Because I was cooking for two, I only used 2 chicken breasts. I used 2/3 of the oil, garlic, sugar mixture.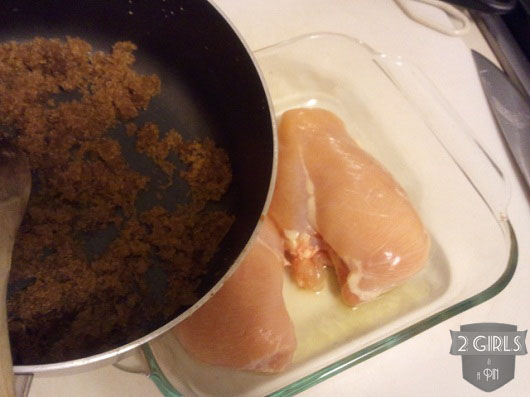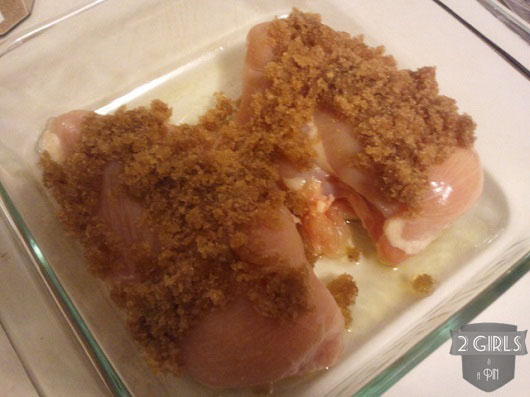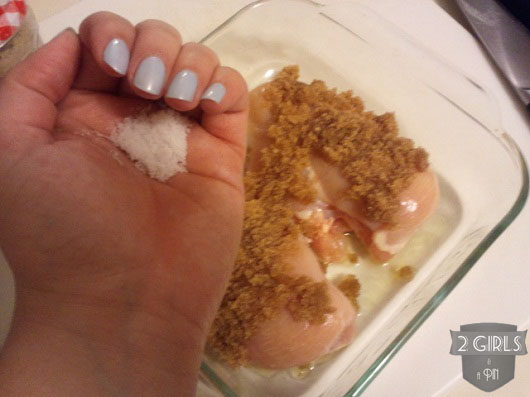 NOTE #1: I found it interesting that the chicken was not pre-seasoned, but the spices went over the sugar and garlic mixture. However, the recipe called for that, so I went with it.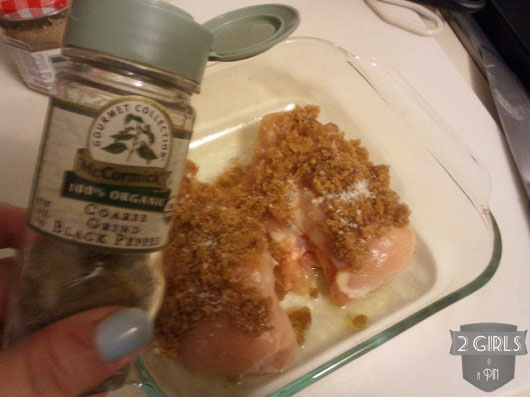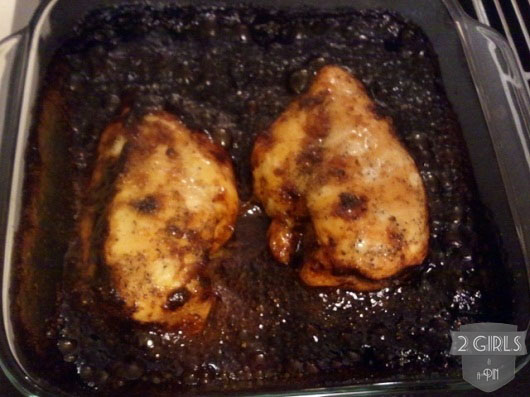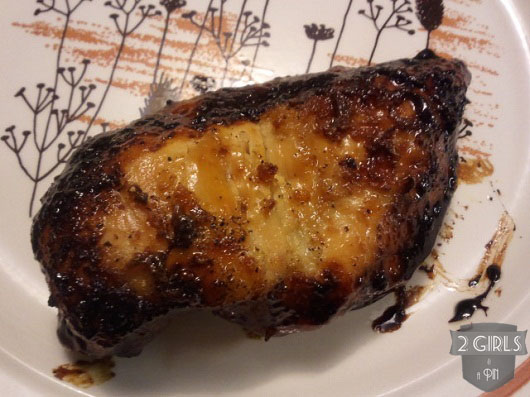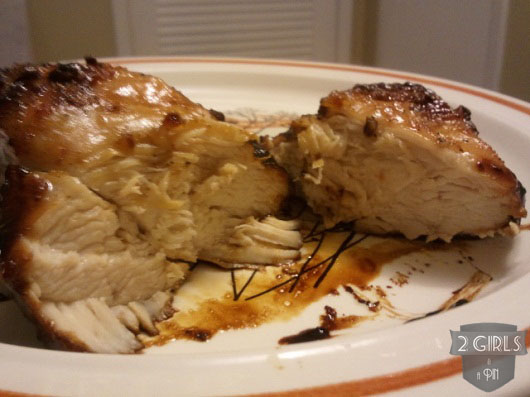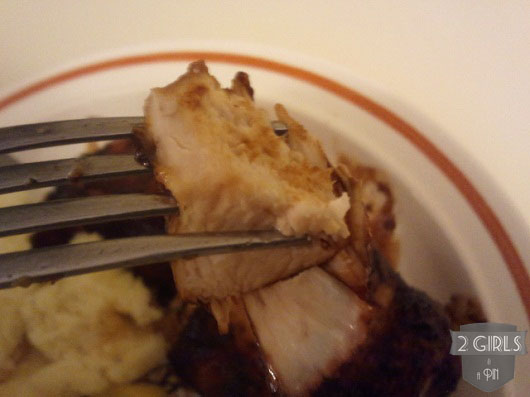 The ingredients: This recipe is as simple and straightforward as they come. There are four ingredients and four bullet points! In terms of ingredient availability, everything that was used today you probably either already have in your fridge/pantry or you can easily find in your local supermarket. Because I was cooking for two, I decided to use 2, instead the required 4 chicken breasts, and adjusted the quantity of the sauce accordingly.
The recipe: The preparation directions are also very straightforward and easy to follow. They are clearly outlined following the ingredient list and provide a perfect amount of detail. The post does not come with step-by-step visuals, so if you're like us and enjoy being able to visualize what you're to be expecting from a recipe, follow 2girlsandapin as we prepared this delicious meal, since we like to take pictures of every minuscule detail!
The flavor: Even though I cut down the chicken quantities in half and adjusted the sauce amount as well, this recipe surpassed my expectations in terms of quality, taste, and ease of preparation. As I stated earlier, I approached this pin with some reservation. Mainly in terms of the fact that this chicken needed to be cooked on rather unusually high temperature of 500°F. I would be lying if I said this didn't concern me, especially with brown sugar and high temperatures involved. However, you can feel free to leave any and all reservations at the door, because this chicken was delicious! It was surprisingly moist and tender…dare I say, cooked to perfection! The sweet smokiness of brown sugar performed very well under the heat of 500°F and provided a delicious, caramelized coating for a juicy slice of chicken.
Issues: The only obvious issue with this recipe was that there was brown sugar cooked on really high temperature. As you can imagine, my casserole dish was left rather crunchy!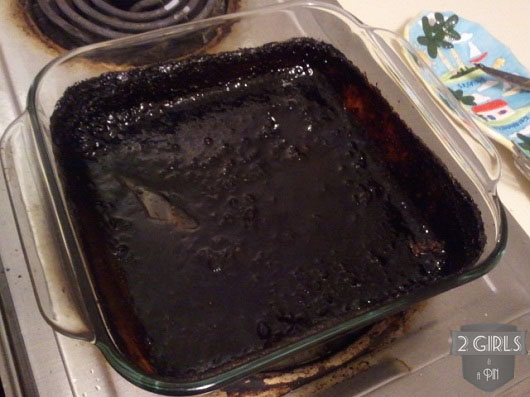 Other than that, as I mentioned earlier, the recipe instructs us to cook this chicken on 500°F for 15-30 minutes. I don't know about you, but in my stove an extra 15 minutes on high temperature makes a big difference! With this gap being so ridiculously wide, you'd be best advised to learn any and all of your stove's quirks and idiosyncrasies and just use your best judgment on whether to go with 15 or 30 minutes of cook time. I went with 30.
Comments: Although this recipe comes with pretty unusual approaches to chicken baking, I strongly advise you to give this pin a chance, because for a meal that is done in 45 minutes or less (including prep time) it is more than worth it. Make sure to use a glass casserole dish (you'll be thankful when it comes to the cleanup) and do some thinking when it comes to your oven. The choice may be what decides whether your dinner is fab or flab.
Final Verdict: I give this recipe a 10/10! This is an absolutely fantastic solution for those nights when you don't feel like making an elaborate dinner. Four ingredients and a quick cooking time make this chicken a go-to solution for a quick weekday meal. The significant other was equally happy with it and gobbled it up in no time! Even though it's sweet, it is definitely man approved.