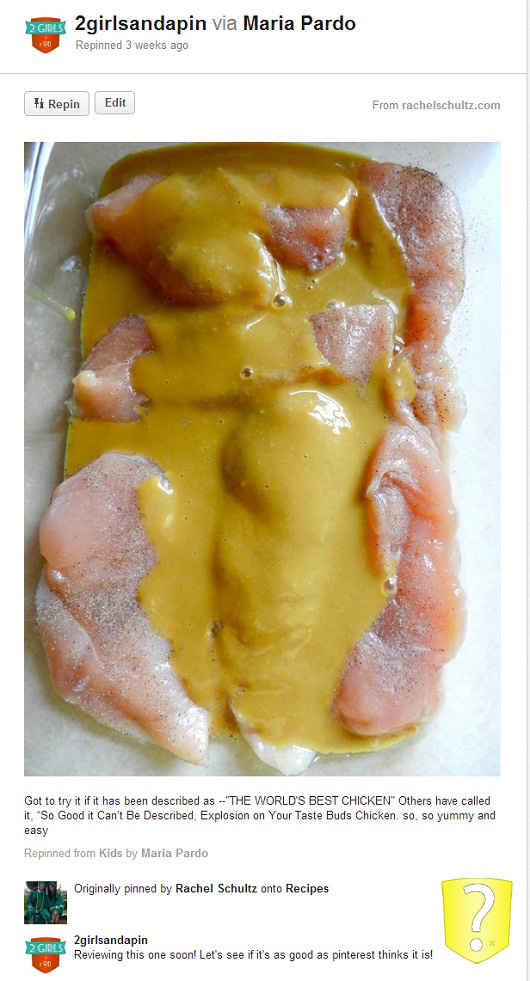 I've been seeing this pin around Pinterest for a while. I actually recently discovered that I do find Dijon mustard rather pleasant in right quantities, so this one inevitably landed in 2girlsandapin's Food 2 Test Queue board. With a title like "THE WORLD'S BEST CHICKEN" you know we had to give it a try. So, the other night, this recipe's number was up! It was going to get tested to see if its title holds. So, let's dig in!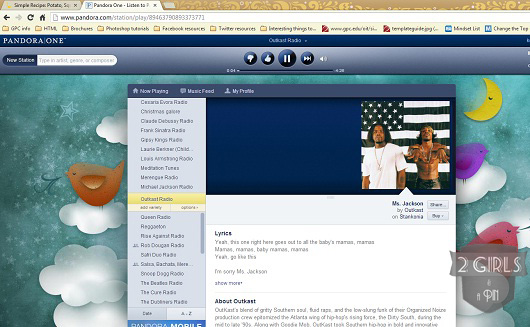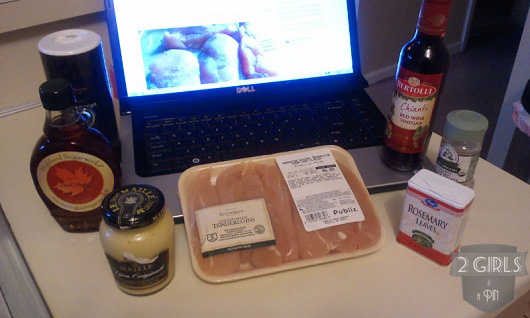 Step 1: Preheat oven to 425 degrees.
So, let's do the sauce first.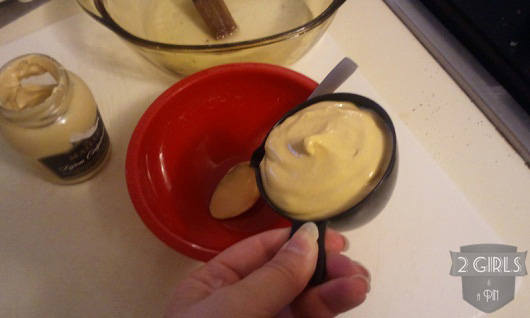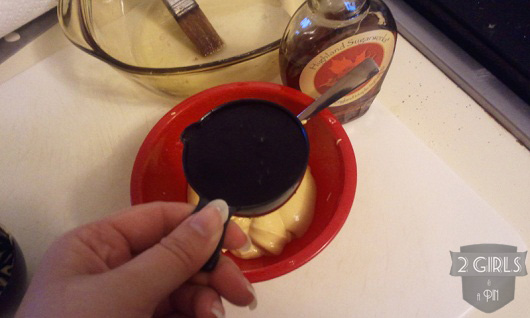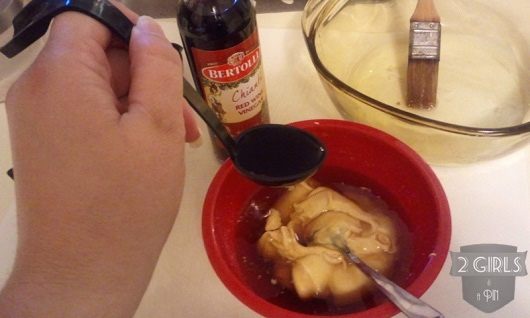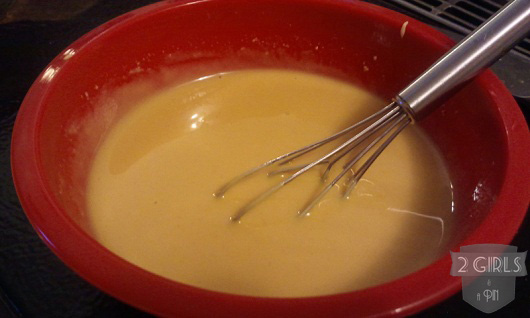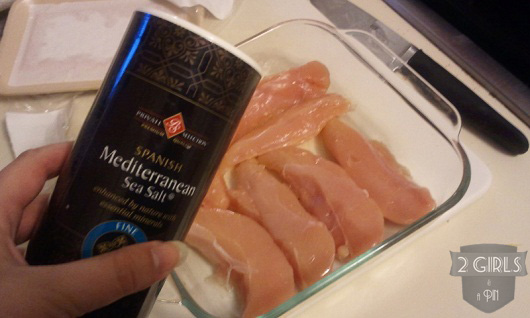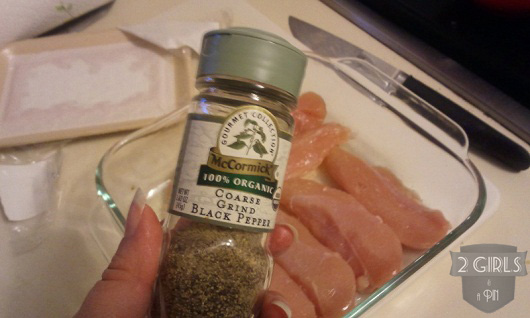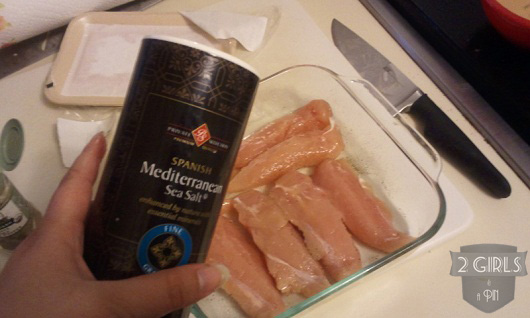 The recipe did not mention whether the dish was supposed to be greased, so I just left it as is.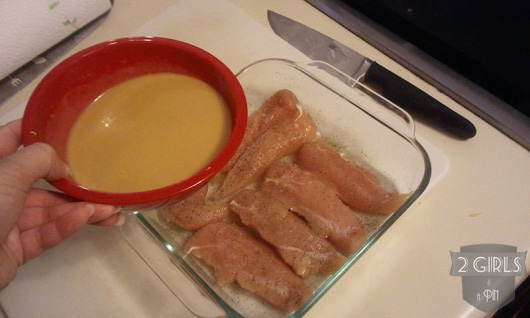 The great thing about this recipe is that your meat does not need to be previously marinated. Ms. Schultz is much like us in that she prefers not having to marinate the meat "because she [sic] hate[s] marinating/often forget to until it's too late."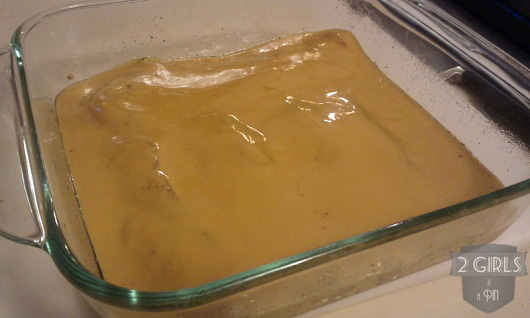 I'm not a 100% sure if some of the original pinner's chicken breasts remained unsauced on purpose, or if this was just a presentation point….but I would think you want all of the chickens to be at least coated with the marinade.
Step 10: Bake for about 35-50 minutes or until meat thermometer reads 165 degrees.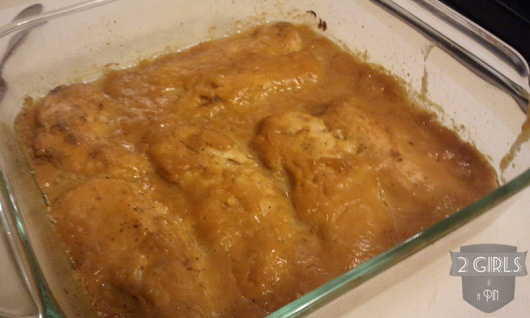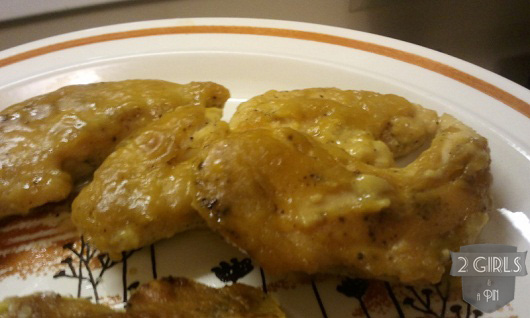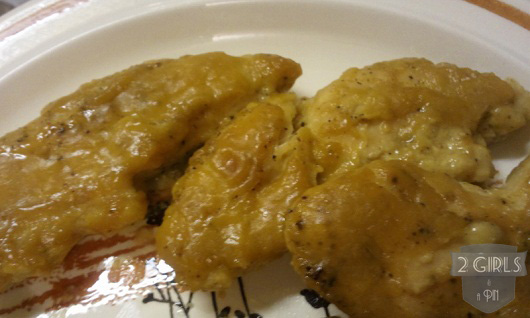 Step 11: The last step is to season your cooked chicken breasts with rosemary.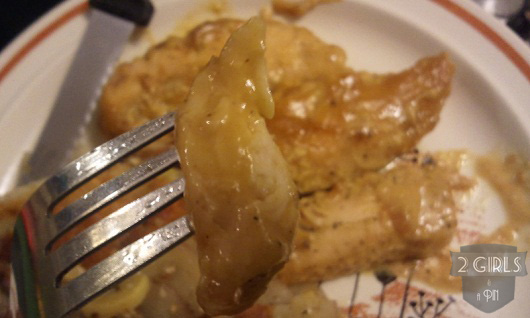 The ingredients: The recipe from this pin lists all the ingredients in a very neat and useful way and details the quantities really well. In terms of ingredient availability, everything that was used today you probably either already have in your fridge/pantry or you can easily find in your local supermarket. It should be noted that, unlike our pinner, I used chicken tenderloins simply because that was the thing I grabbed out of my freezer the night before.
The recipe: The preparation directions pretty straightforward as this is not a very complicated recipe. However, I was left wondering if we were supposed to use some kind of greasing method for the pan the chicken was cooked in, and whether the sauce was supposed to be left off certain areas of the chicken or completely covered. As for myself, I went with no greasing of the pan and completely covering the chicken in sauce.
The recipe offers pictures for the most important parts of the recipe: one of seasoning the chicken, one with chicken covered in sauce (although, as we mentioned earlier, without a distinction whether the chicken breasts were supposed to be covered in sauce in their entirety), and lastly a picture of the final product. If this is insufficient instruction for those of you who don't feel as comfortable in the kitchen, you're in luck because 2girlsandapin takes picture of our EEEEVERY step!
The flavor: Although I made some unintentional changes to this recipe, like using chicken tenderloins as opposed to straight up chicken breasts, I personally found the Dijon mustard in this recipe very overpowering. Don't get me wrong, it definitely tasted good, but the smoky flavor of the maple syrup was unfortunately lost under the heavy presence of the Dijon. I think the fact that chicken tenderloins are a lot smaller than full chicken breasts may have had something to do with this fact, since a lot of the flavor had a lot smaller area of meat to inhabit. However, even without the chicken variable, the sauce itself was still too Dijony for my taste buds' preferences once cooked as well as before (since I'm totally one of those cooks who tastes everything as I go, so I gave it a taste before saucing up the chicken).
On the other hand, the significant other didn't have any issues with the Dijon's overpowering flavor as he gobbled it up without any problems. He really, really liked this recipe and since I served it with last week's Potato, Squash and Goat Cheese Gratin, he deemed that entire meal a total winner in every aspect.
Issues: The major issues I can see coming up if you follow the original recipe (in using chicken breasts as opposed to tenderloins) is whether to entirely cover the meat with sauce, since the recipe doesn't specify. I covered my chicken tenderloins entirely, and once they were done baking, there was definitely some excess sauce in the pan. However, since tenderloins are a lot smaller than regular chicken breasts I think this probably had a lot to do with that. Also, the meat didn't soak up the sauce as much as it appears the original pin's chicken did (which can also be attributed to the size of the meat).
Furthermore, in terms of the flavor, the major issue in my opinion is that the flavor of Dijon mustard is way overpowering. As I said earlier, the chicken tasted just fine, but I had to scrape the excess sauce off my chicken tenderloins because it was just too much Dijon for me. Next time I make it I will definitely use a little less Dijon mustard. Maybe even go down to a 1/4 cup as opposed to 1/2 cup.
Comments: If you venture into making this recipe yourself, make sure to actually use chicken breasts, since I think a lot of the issues I had with this stemmed from the fact that I used chicken tenderloins, which are a lot smaller chunks of meat. Also, I would suggest you taste the sauce before you cook since it will give you a good idea of whether the sauce has too much Dijon in your opinion. My guinea pig tester actually loved it just the way it was, since he really, really likes his Dijon. I on the other hand, wanted to let the maple syrup shine through.
Final Verdict: This recipe's yum factor in my opinion is a 7/10, but only because I used tenderloins as opposed to the suggested chicken breasts. I think the recipe still calls for too much Dijon mustard. Just as a F.Y.I., my fellow blogger Anar agreed in my assessment of too much Dijoniness (and she used chicken breasts when she made this for her family). I will definitely make sure to do a repeat of this one and correct my mistake in hopes of rectifying this pin's score and by all means cut down on the mustard and give the maple syrup a fighting chance in the food wars.
Have you tested this one yourself? What did you think?