Today is our one year anniversary! So I want to take a second to thank you all for coming to our blog, for following, for commenting, for taking your time to read through our posts. We love sharing our pinteresting journey with you and we hope you stay with us for many more to come.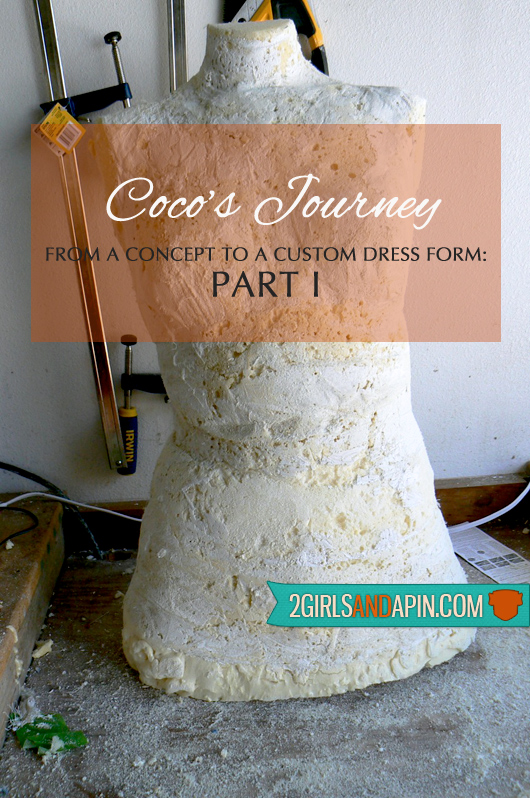 We've been teasing you guys long enough. Here she is, Coco, my body double. It's been a long journey getting her here. But today, on the anniversary of 2 Girls and A Pin, Coco is finally complete! I am so proud. It literally took 9 months to get her here (she is my baby) but mostly because of all the mistakes I made along the way.
I will break down the process for you so you don't make the same mistakes. But if you do, I have most of the solutions right here. I am thinking that, in total, it should only take you 2-3 weeks to complete the form. If you are up for it, of course. Please make sure you read each part through before you attempt to do anything. And buy lots of wine before you begin.
It's going to be a very long post, so sit back, relax, and read on.
Here is what you will need for this part:
Proudbody Deluxe Pregnancy Belly Cast Kit – purchase 2 if you are more beautiful than size 12 and want the form to be long.
Roll of Premium Plaster Casting Material – I didn't purchase the extra and very much regreted it. It could have helped to make my form longer.
Removable Top I.V. – it went up a bit in price ($3) since I bought it but look at the beautiful color. I wish I got this color instead of the ugly gray. Oh well! You don't really HAVE to buy the I.V. pole now. You could purchase it later. I used it in the preparation a lot but if you have something to hang a wet form on, you can wait to purchase it for a week or so.
Great Stuff Insulation Foam Sealant – get the black can, not the red one. You should buy 4-6 depending on your size. We used 4.5 with my form and I am size 6 (ssshhh! don't tell anyone)
Multi Purpose Lubricant – stop giggling! My hubby actually blames this lubricant for not doing it's job and said I should have gotten WD40. But who knows?! I made so many mistakes along the way. Get 2 bottles of whatever you choose.
Medium Sanding Sponge – the kit includes sand paper but it worked only for a bit before I ran out
A small hack saw – you will use it all through the project.
A friend – someone you trust and comfortable with. I preferred not to get my husband involved 😉 So I waited until Jelena made a trip to come see me. What is more perfect than 2 Girls working on a project?!
I hope the list didn't scare you off. It's not that much and most can be ordered on Amazon if you are not much of Home Depot/Lowes visitor. The total for this part comes to around $85 and takes around 4 days to complete, depending on your schedule and the weather.
I've been dreaming about a custom dress form for about 4 years now. Never got the guts to do it. Then I got inspired after reading these two posts: How to Make A Custom Dress Form by one of Jezebel's bloggers and What I Do in My Spare Time…a Dress Form, Of Course!! by Sew Not Work.
After my inspirational readings, I started to draft ideas for my very own body form. This is how Coco became a concept. Finally I I decide to start the journey so one day Coco can be a reality. It's intimidating, I know, but don't worry I broke it down so you can take it one step at a time.
Let's jump in! As I said, this is going to be a very long post.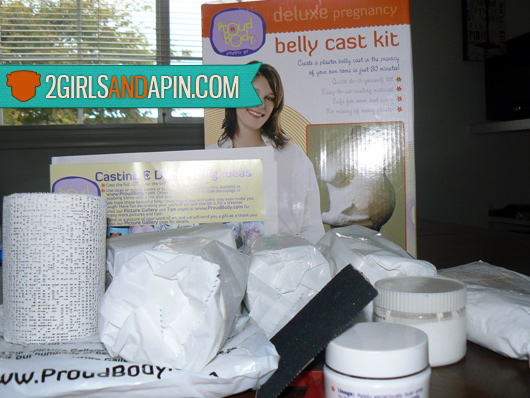 Make sure you leave enough strips to be able to close the back once it is cut open.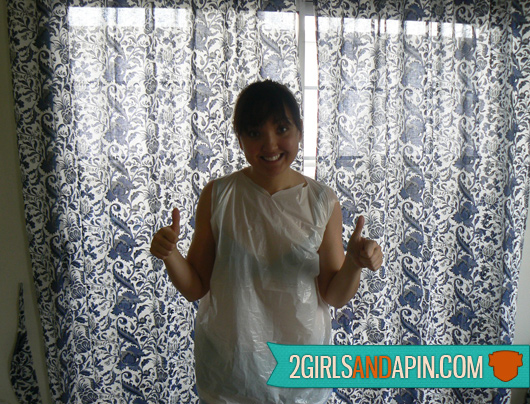 I know I am standing in a trash bag but I suggest you don't use one. You will see why in just a little bit.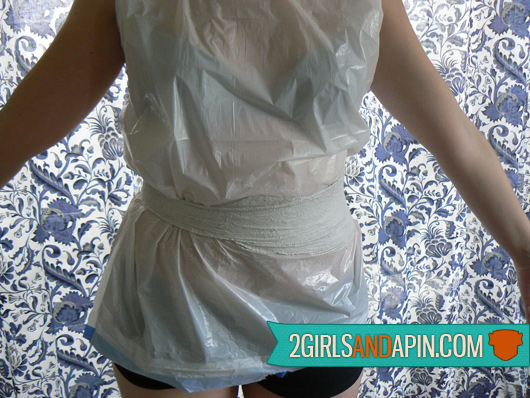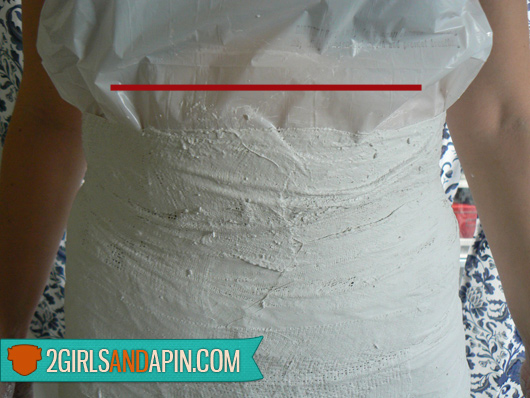 Here is where the extra rolls of casting material would have helped. You could make your form as long as you would like. I would have loved to have it almost down to my knees. If that's the case with you, stand with your legs shoulder-width apart and let the person cover the bottom first before going to the top. The top is a bit restricting so you would want to do it last. The areas from the chest (red line) all the way to the bottom should be covered by going around (horizontally).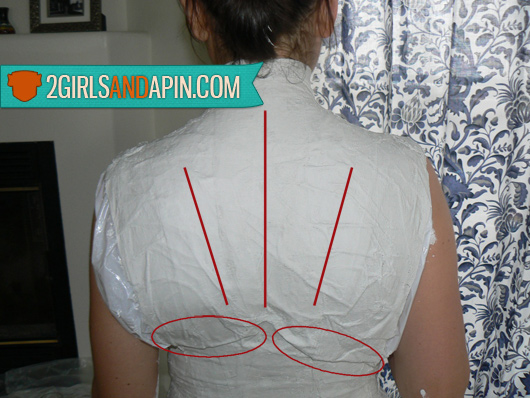 You know how I said earlier that you shouldn't use a plastic bag. Look at the circles, more like ovals, on the image. That's why you shouldn't use a plastic bag. It bunches up under creating all this uneven surface. More and more I worked on the form, more I regretted using a plastic bag.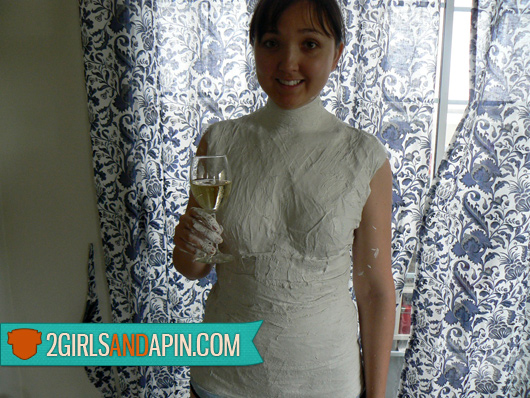 Though I do say GET some wine, what I mean is, make someone get you some wine. Try not to move much. I barely could move my arms to bring the wine up to my lips.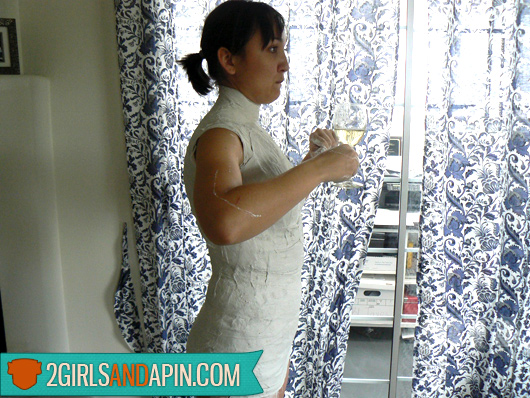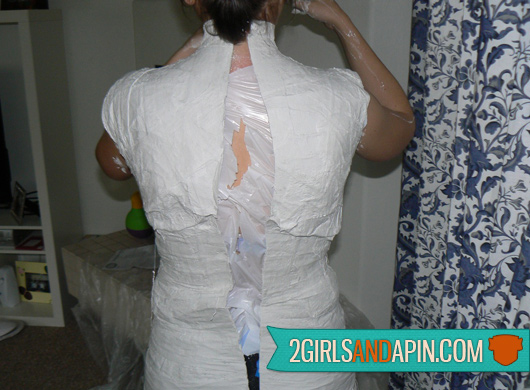 You see how easily the cast is separated from the trash bag, so you don't have to worry about it sticking to your skin. Plus the kit includes a special natural lubricant for the skin.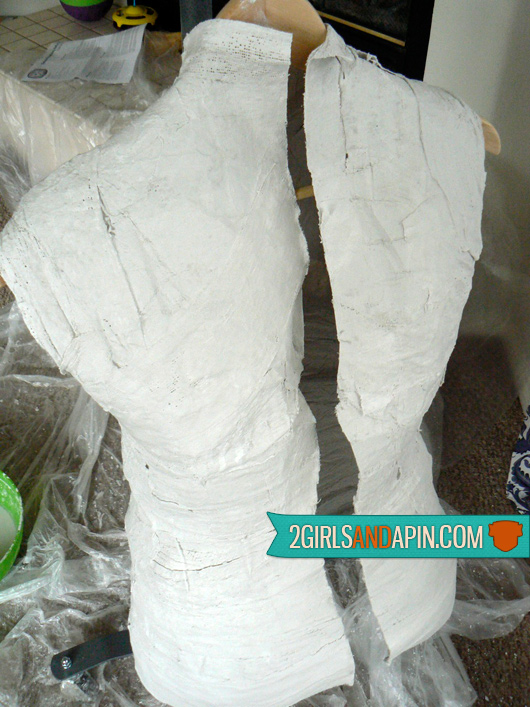 Here is where I again regretted not having enough cast material to make the back stronger before it was cut off. Also, don't forget (which I did) to mark the back so you can later align the cast properly.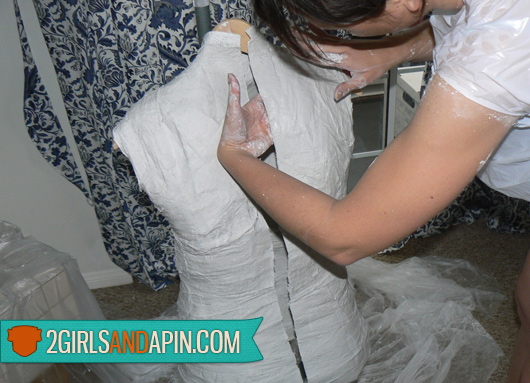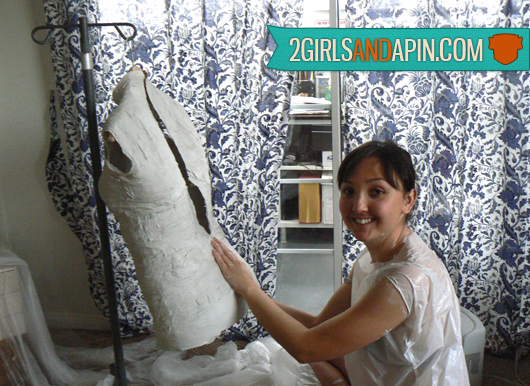 Hold applied strips for a few seconds so they have a chance to set and don't move much. Reapply pressure if it starts bending. This is a long and tedious process but it's worth the time.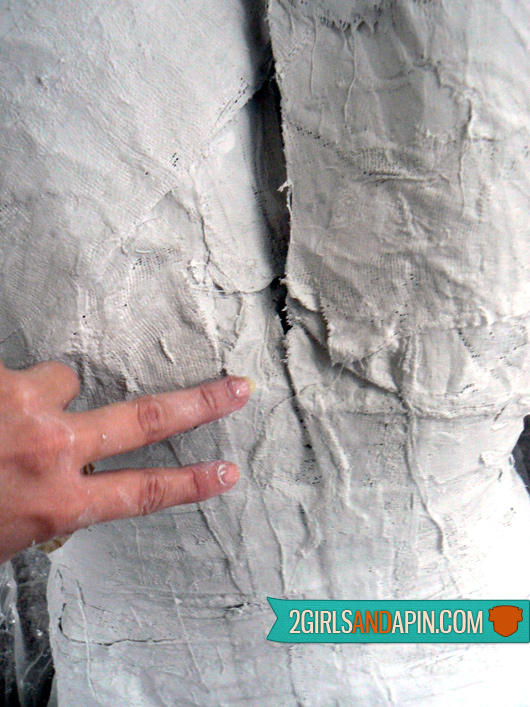 At this point I was almost crying because I wasn't sure it would work at all. Jelena just kept on pouring wine in my glass and working on the form for me while I would drink and rant. That's what true friends do!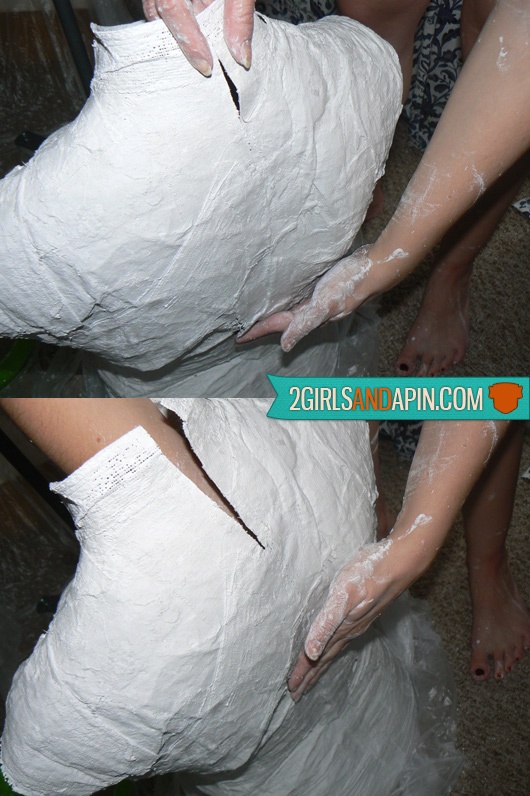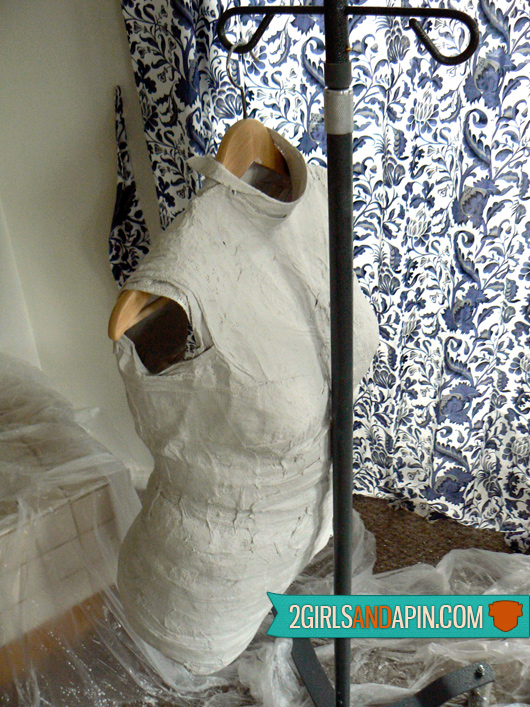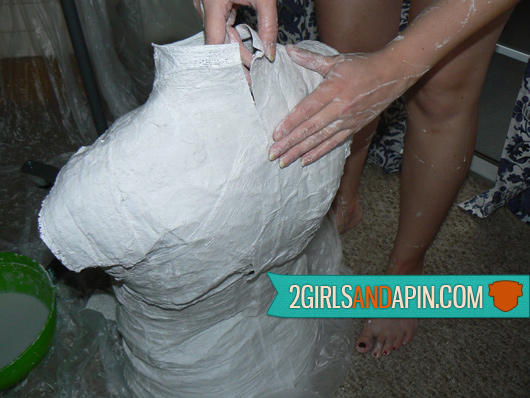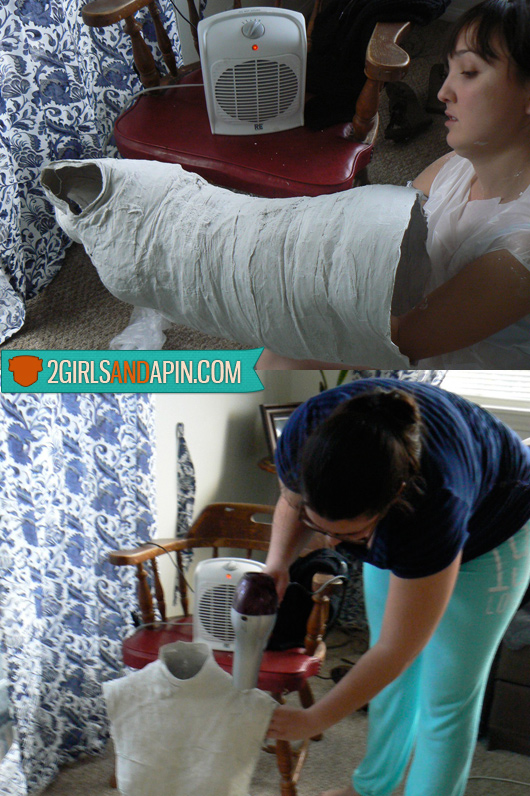 This was happening in February and it was pretty chilly even for Southern California. It was actually raining for 2 days at that point. Jelena was sure that California was doing it to spite her since it only rains here once every 2 years. So we were rightfully worried that if we didn't try to help the form dry faster, it would come apart and the next morning we would wake up to a pile of strips on the floor. Since the directions allowed for it, we went ahead and used hot air instruments to assist the drying process.
After we felt that the form was comfortably dry (not easily bended) we left her standing in front of a heater set to low. It was time to shower and celebrate. She, I mean it, was left alone for the night, away from my picky fingers and dog's curious teeth.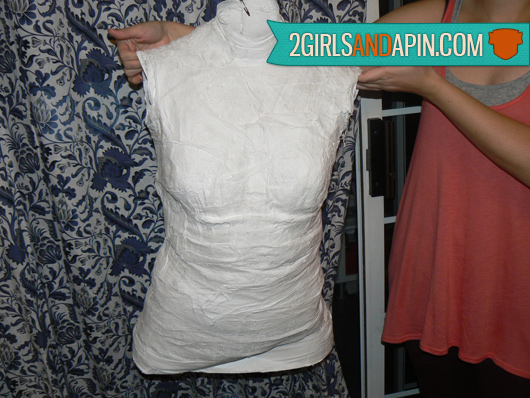 Don't despair if this happens to you. We figured out a solution and everything worked out fine. Though, I did almost burst into tears seeing it.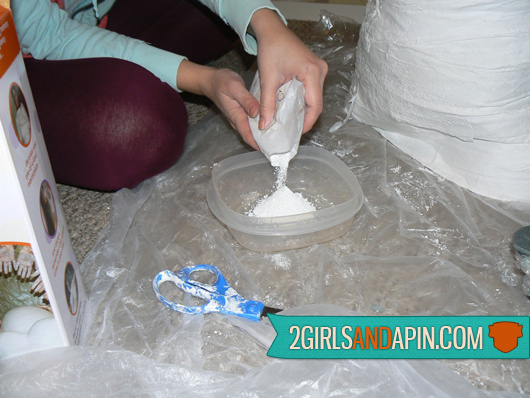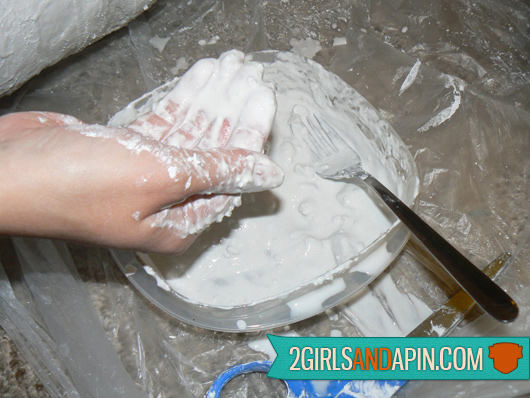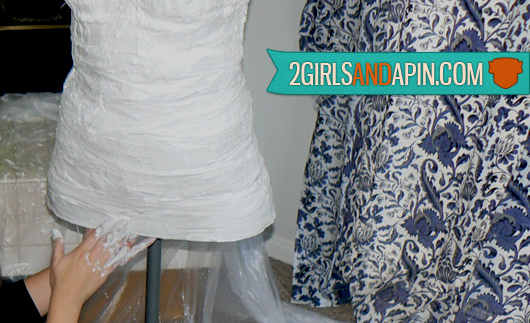 The cast was still pretty soft at this point, so it wasn't that hard to fix the bottom.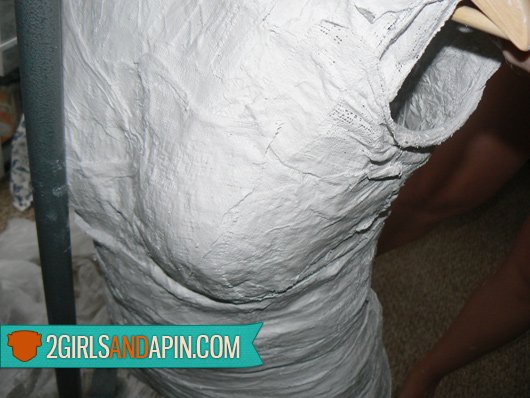 Once a spot dries a little and you still feel like it's weak, apply another small layer of plaster.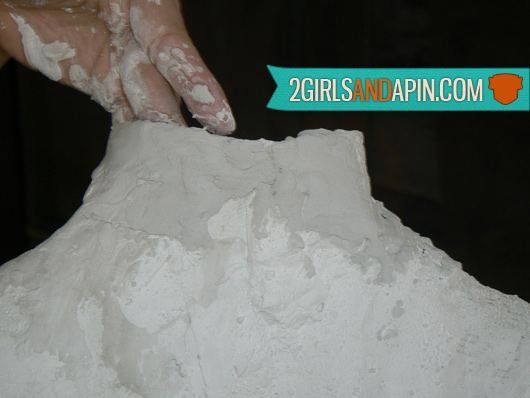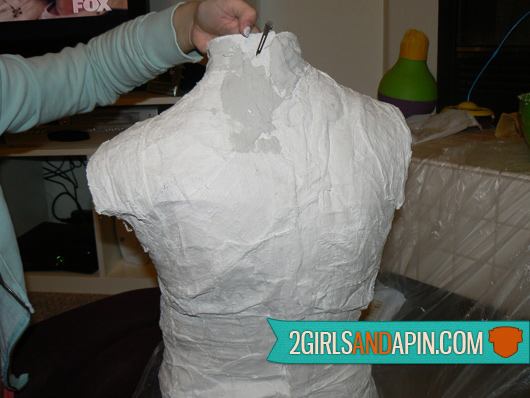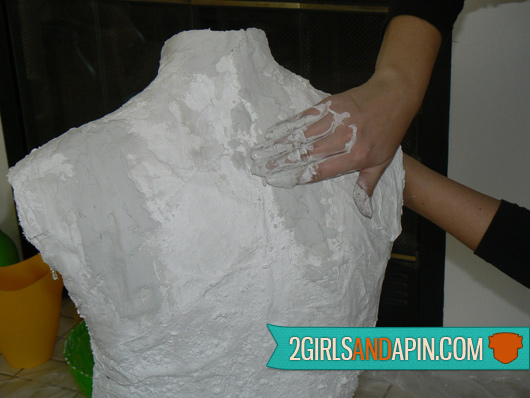 Here is where I wish I covered the whole form in a very think layer of plaster inside and out. But I didn't. I hope you don't make the same mistake and do that. I can't emphasize enough how important it is to slowly mix small amounts of plaster as you go. Don't forget to cover the back opening with a solid amount of plaster so it doesn't rip open when you fill it with foam.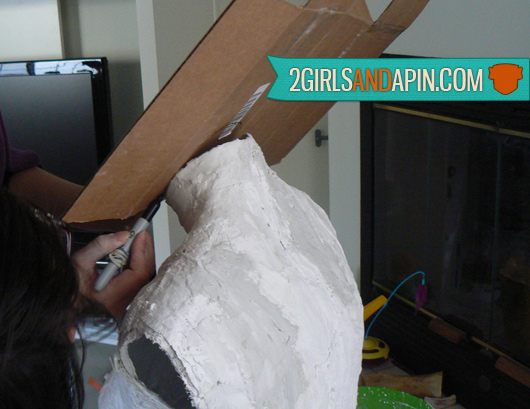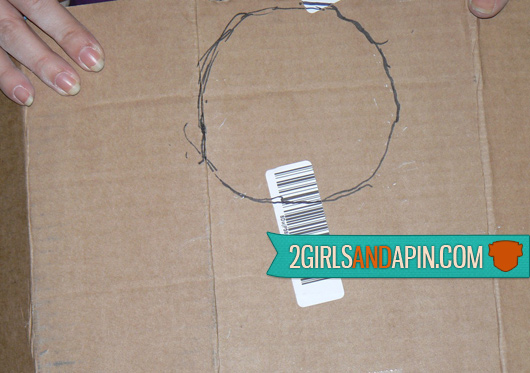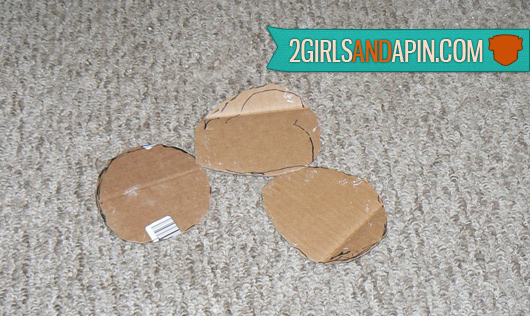 The next few steps are a bit moronic if you ask me now. I don't know what I was thinking, now that I look back at it. I am captain Hind Sight here!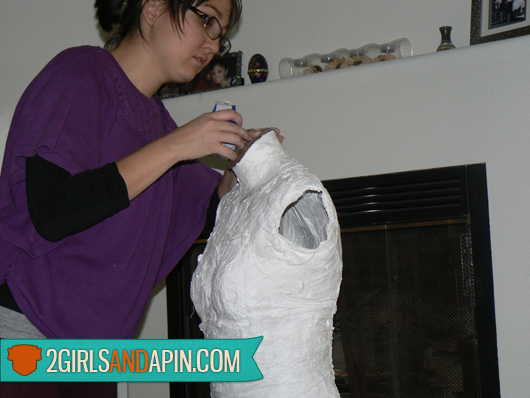 I shouldn't have trusted regular tape on this one. But I wasn't thinking. I've never worked with expanding foams before, I didn't know what was to come.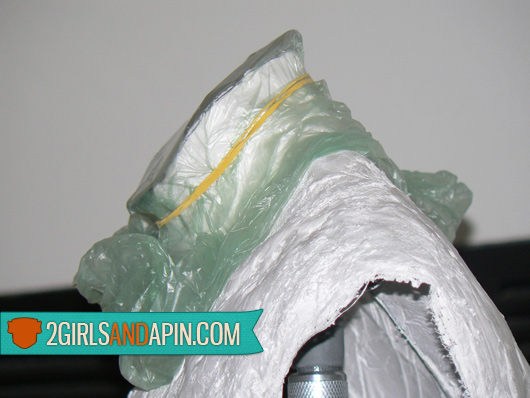 At the end, the neck held up pretty good so I can't complain about the plastic and rubber bands. But make sure that the plastic is very tight around the hole.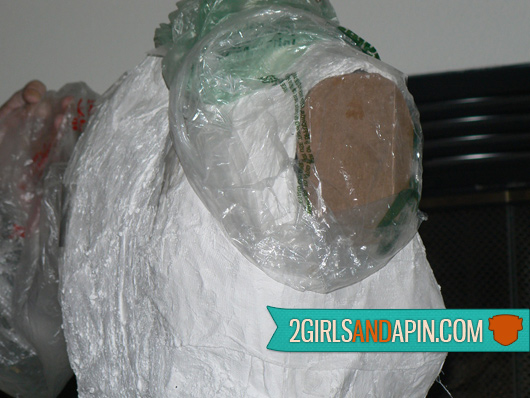 Here is where it all went wrong, and you'll see why later. But trust me when I say, wrap the armhole covers with a rope or twine across the form.
Let me backpedal a little bit. As I said earlier, I wish that, at this point, I covered the inside with a very thin layer of plaster. And on top of that, I wish I had used the provided coat that came with the kit on the inside of the body form.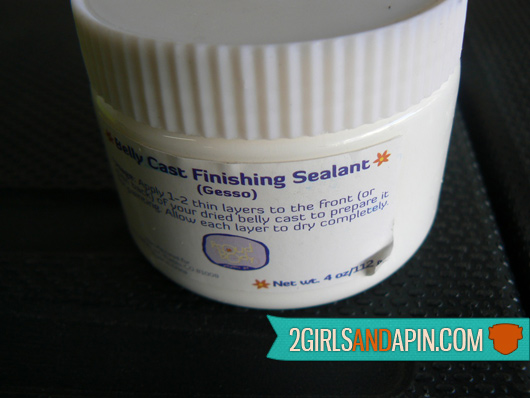 I think that it would have helped cover the porous nature of the cast and help the lubricant keep the foam from attaching itself so hardily to the cast. All the problems to come could have been avoided right here. Captain Hind Sight is back in the house!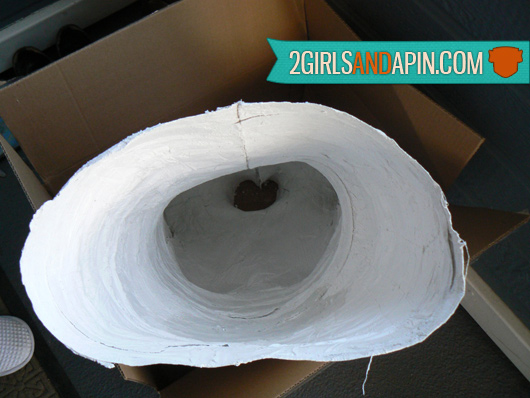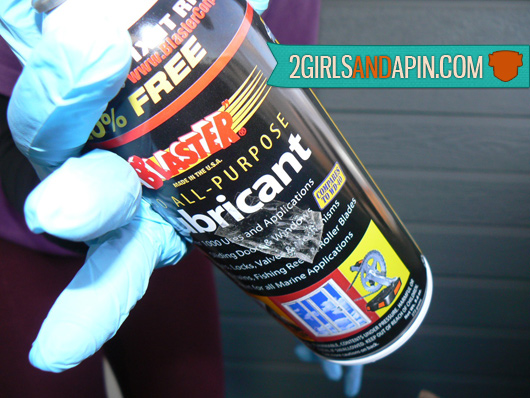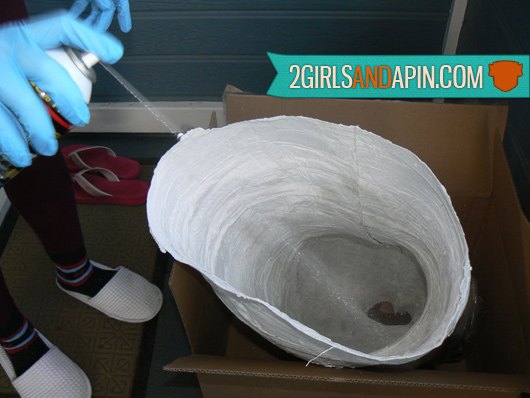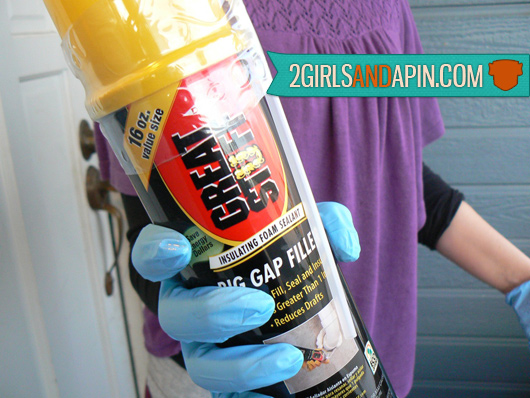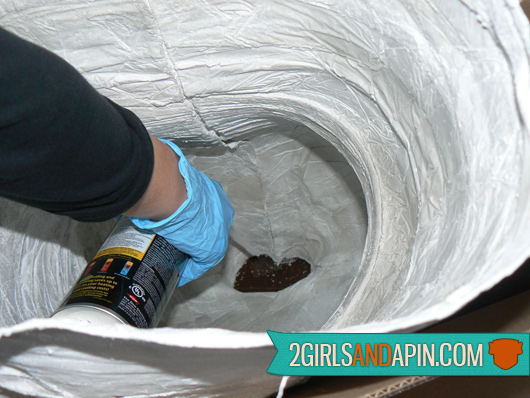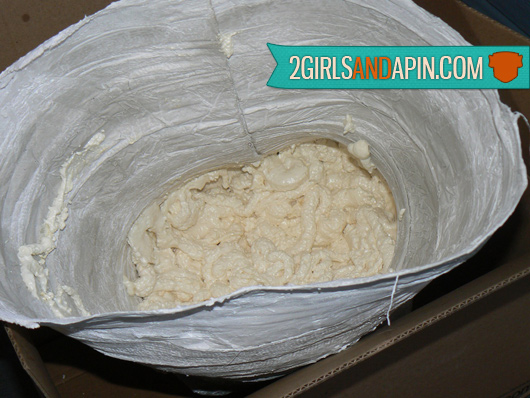 Remember, the Great Stuff foam expands drastically and if it didn't bust on me, the form probably would have overflowed, thus making my life even more complicated. So stop about 4-6 inches from the bottom.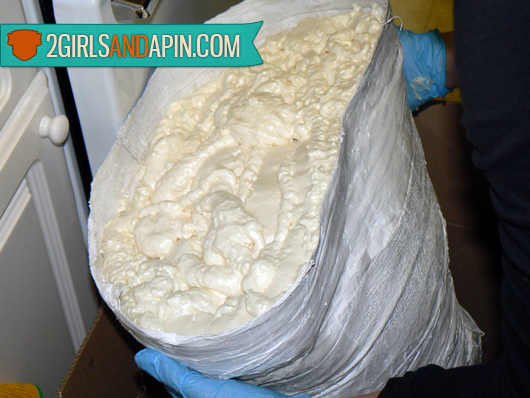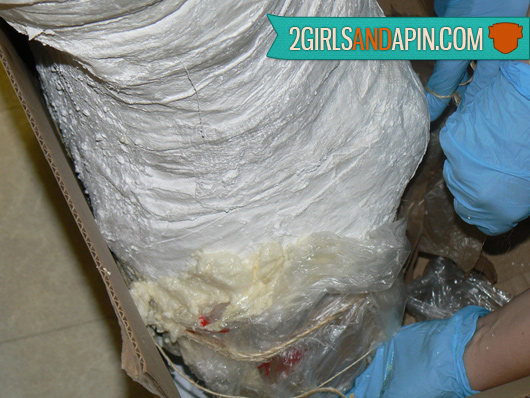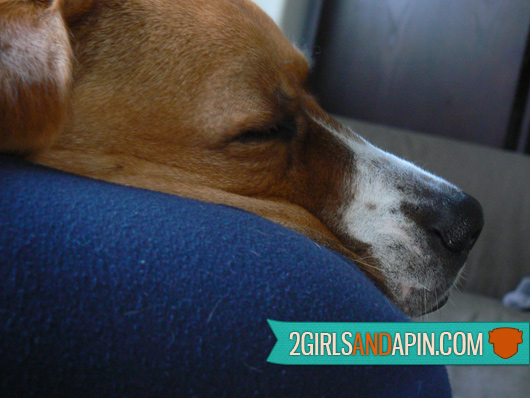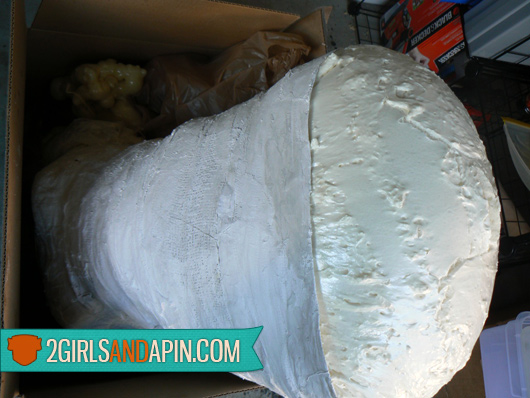 You may get excited at this point, as you should. You are going to see your form for the first time. Get out your working gloves, eye cover, and face mask. What you are working with here is toxic, so be careful.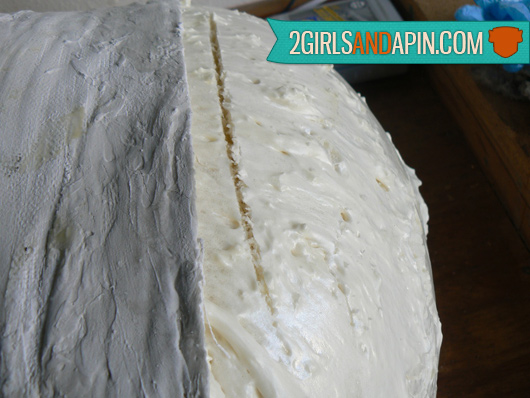 I am going to take another moment here to point out my mistake. I didn't properly mark the bottom and cut it off unevenly which caused soooo many more issues in the future. Though if this happens to you, don't worry, I will walk you through a solution in another part of Coco's journey.
Cut off all the extra spillage that you may have had. So it doesn't tip over your form and its balance.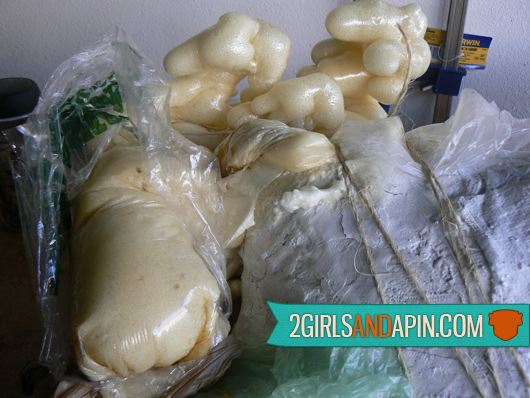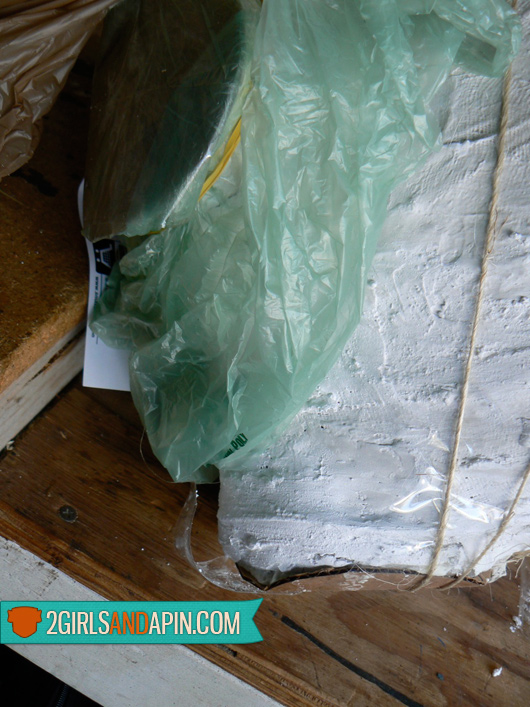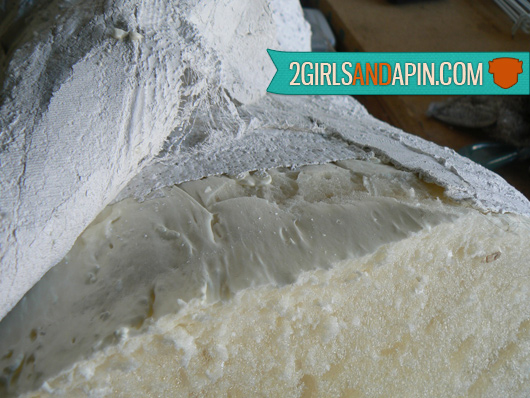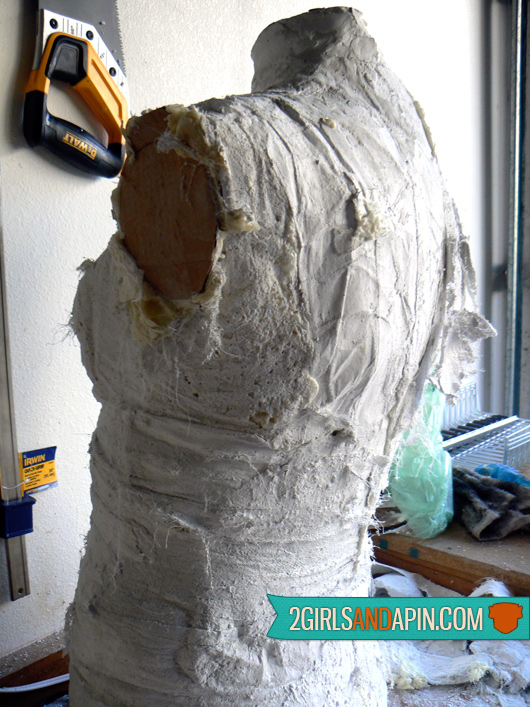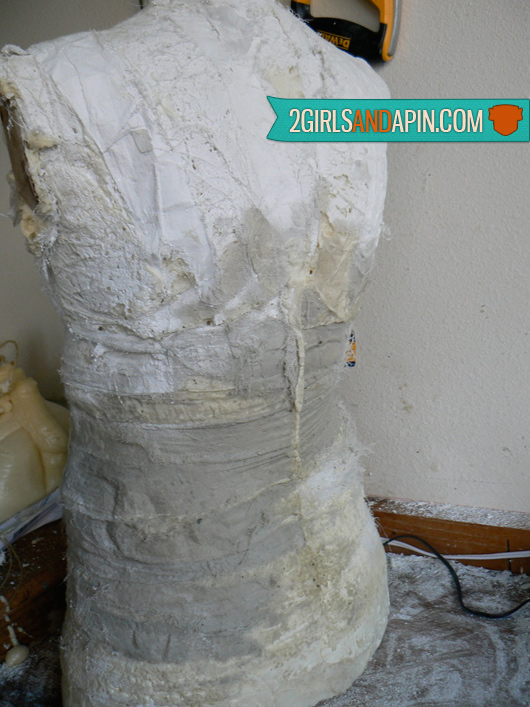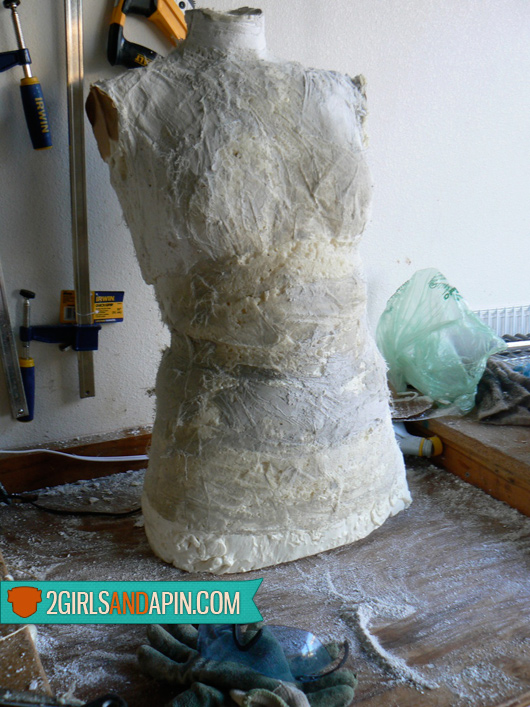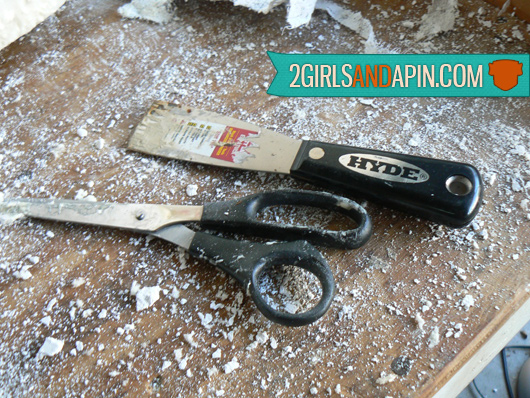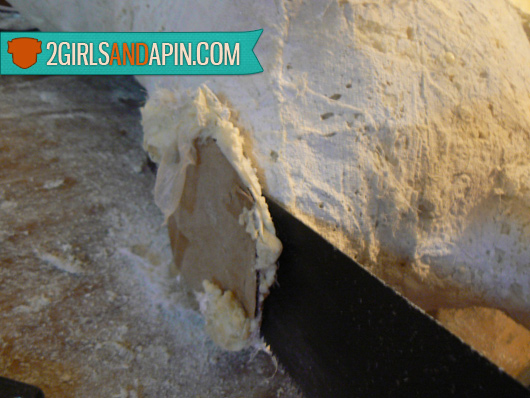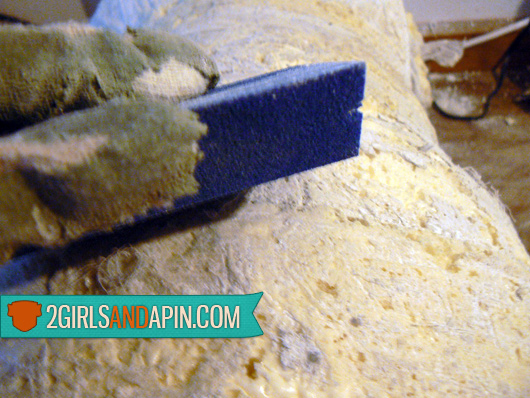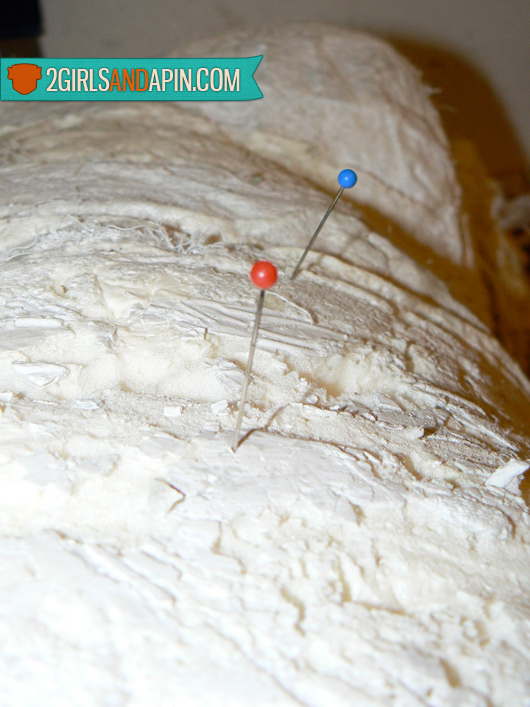 The pin test involves sticking a pin into the form to see if it goes through easily. If so, you are done sanding that part. And if your form is all perfect and not deformed like mine, you will be able to move a few steps ahead of me. For people like myself, whose form is a bit of a Frankenstein's monster, follow along.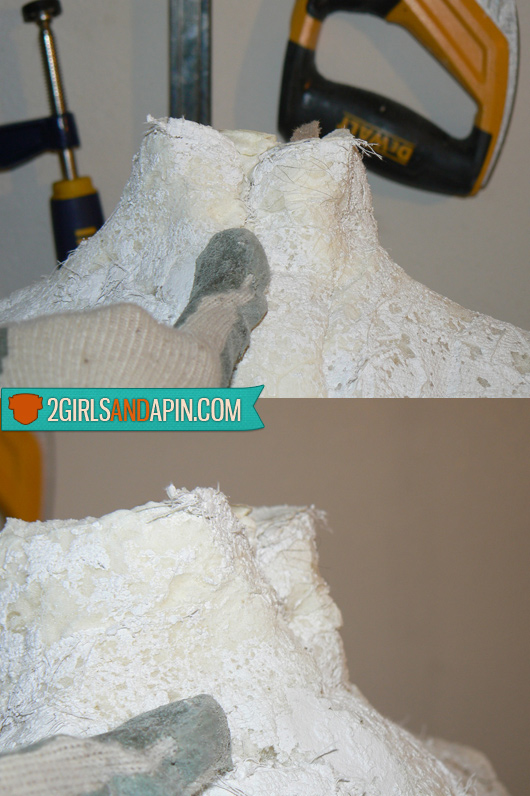 When I say locate major issues, that means find things that can mess up your fitting later on. A little hole (less than 1/2″) on the side of the form created by a few bubbles is not an issue. If you concentrate on those, you will spend days trying to correct things that will later be auto corrected by covering the form. I know it's tempting, I was there. But it's not worth the trouble. Concentrate on the larger holes or large defects caused by collapse of the cast.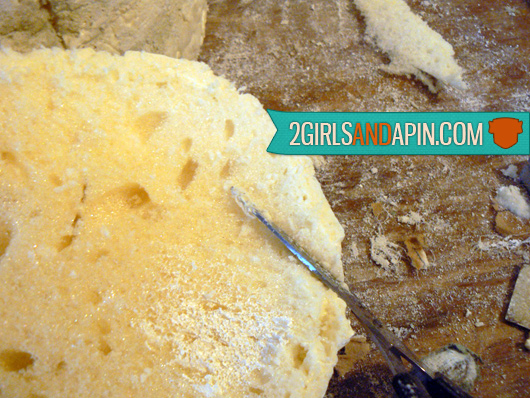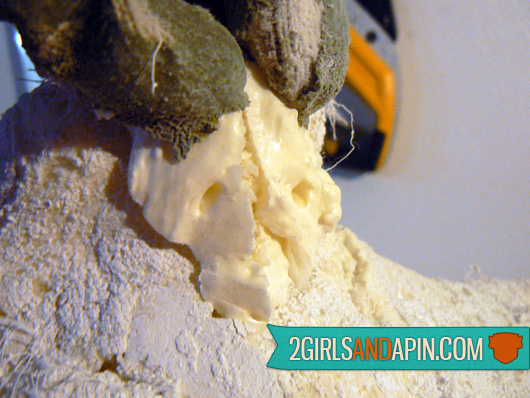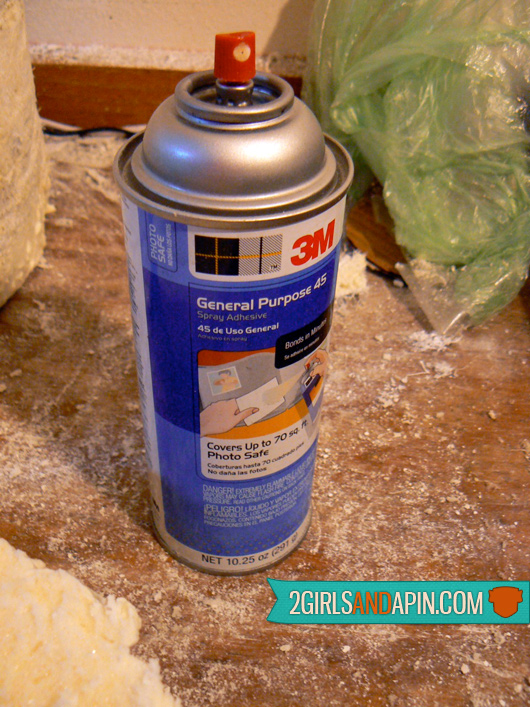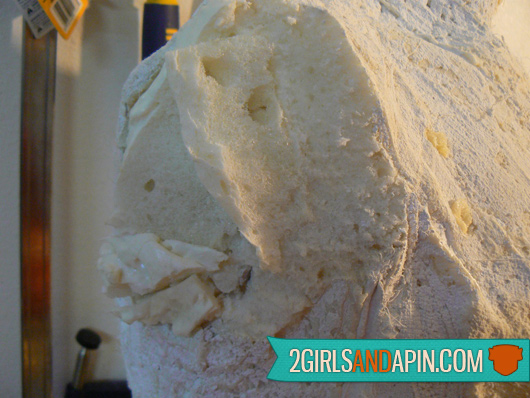 When I was sawing off the armhole cover, I wasn't careful and took off a bit too much. Remember that foam can come off in pieces so make sure you are gentle with it.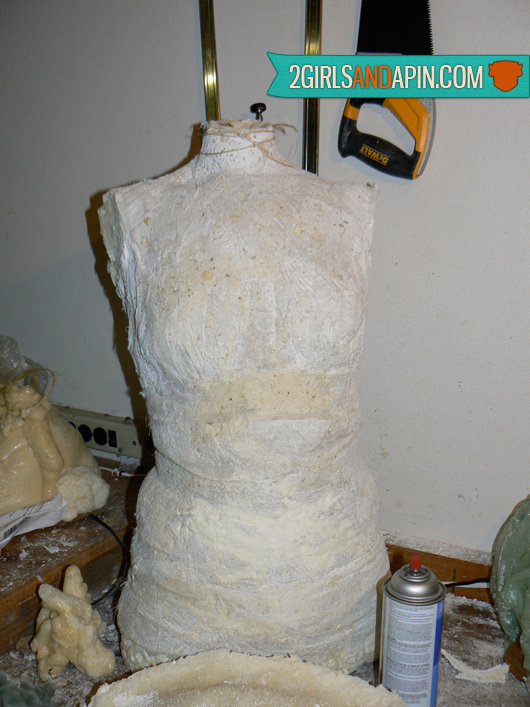 To test if the form is ready to move onto to the next part, make sure that the parts you glued are perfectly secured and cannot be easily ripped off.
Whooo, finally done with this part.
Let's go over the very basic steps outline to sum up this post.
Get all the necessary items
Follow the instruction of your kit and get the cast on yourself (waist-bottom-waist-top)
Take off the cast and reinforce it with leftover cast strips
Once the cast is dry, apply plaster onto weak spots. Apply a very thin layer onto the outside and inside of the form
Once the plaster layer is dried, apply the finishing sealant. This step is option as I am not 100% sure it will help. But I do suspect it will
After the form is completely dry, secure the holes by using good tape, 2-3 plastic bags, and a rope
Lubricate and fill the form up to 4″ or more away from the bottom
Let it dry overnight. Then remove the cast from the foam
Clean up and fix issues if necessary. Leave the form to dry for another day
That sums up all the major steps that we took in this part. I hope it helps you with scheduling your form-making and figuring out when to do what.
Now let's turn to mistakes I learned in this part and how they could be avoided.
Before you cut the form off the body, create marks to easily match up the sides
Don't use the trash bag to cover your body
Cover the neck and arm holes with more plastic bags, do it tighter and follow up with a rope
Use the provided sealant
Use more lubricant before filling the form with foam
Mark the bottom to make sure it is complete even before cutting it off
I think this covers all the major issues we saw in this post. You have no idea how happy I was once I got most of the casting material off. It was such a relief. So if you feel frustrated or close to giving up, don't. It can be done.
Stay tuned for Coco's Journey: Part II.
Please share your thoughts and questions with us. Help us make this or any other projects easier. Leave a comment!