I have been sitting here for at least 45 minutes trying to figure out how to start off this post. I tried "Hello, stranger!", "Howdy", "I am back!", and my favorite "Holy boxes!" but none of those really work in this situation.  I am just too exhausted to really find that perfect greeting. So I think a basic "hi" will work in this case. Hi!
I am finally here, in front of my computer in my office. I really didn't see that happening. You see, we moved three weeks ago into our first home. Yay for first time home owners! Before we moved, there was a lot of fixing going on: new floors, new paint, new refrigerator, lots of new. But there is still so much left to upgrade. On top of that, our house is half the size of the last place we rented. So you can imagine how many boxes I have to unpack and how much crap I need to sell. Everything is moving so slowly. We just don't have the space to keep unpacking, or the money to keep on buying storage options like shelves and closets and chests and drawers. Can you read the frustration in my tone?
We first put an offer on this house in early July. It was a short sale, which meant it would take forever. And it did. Finally late October we got the news that we'll be moving forward and after a few weeks of a mountain of paperwork we finally got our keys. This house is a fixer upper and we knew it but we didn't really KNOW IT. From the moment we moved in, it's been all about fixing, unpacking, fixing, and unpacking some more.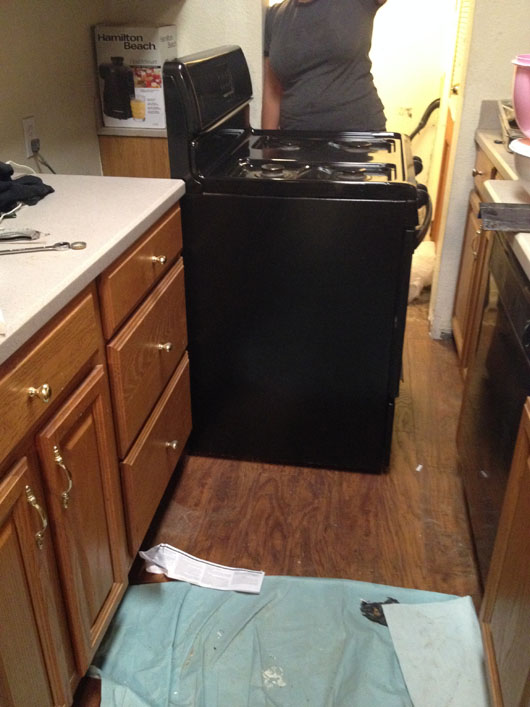 I am not thrilled that we didn't get a new kitchen this time around but I am very happy with the new floors. I am determined to get rid of those ugly 90's doors as soon as I can. Don't worry, there will be a post about it.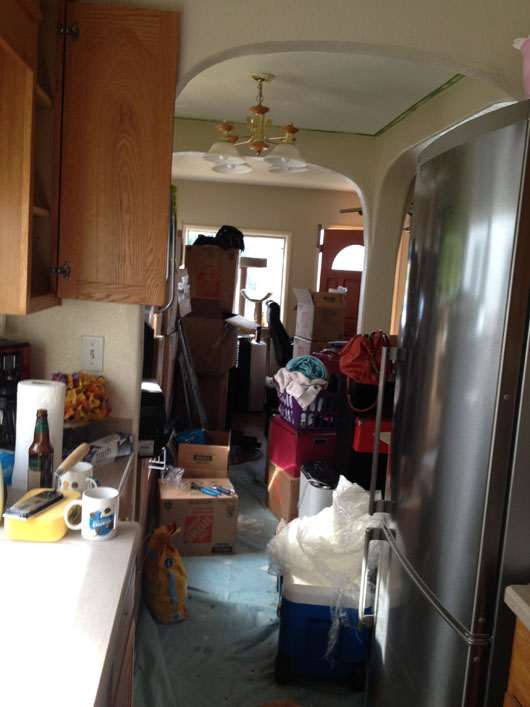 Do you see that tape on the walls? It's still there! Almost three weeks later, it's still there. I have to touch up the paint so I decided to leave it there but there is no space to work so I can't really finish the paint job.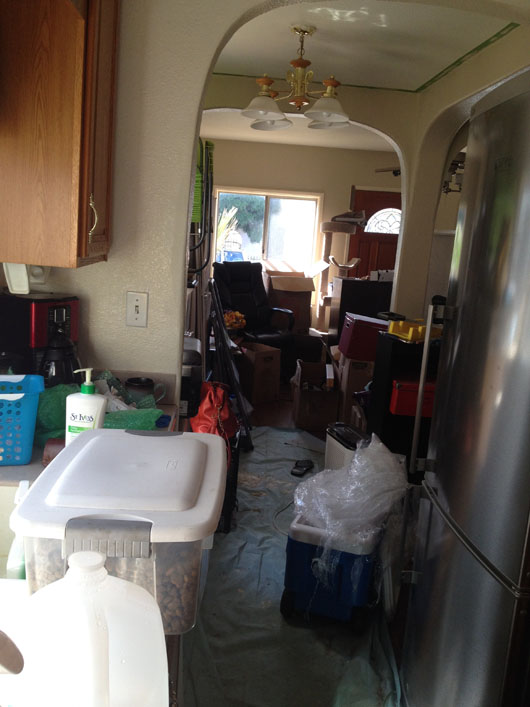 At this point, my husband and I were sleeping on our couch because the bedroom was not at all ready. My back was killing me and until those few days on the couch, I didn't realize just how much I love my bed. It was very nice to move to my bed after a week and a half on a couch (sometimes in a sleeping bag on the floor) but then later that week, I walked outside to a nice surprise.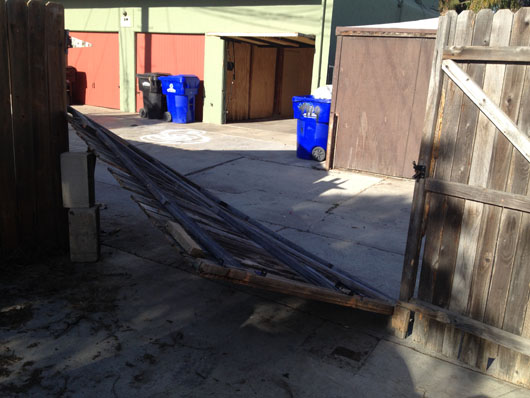 Yesterday we finally got the gate done. But of course that set us back financially and the other fixes will have to wait. Though, I cooked my first dinner in the house and it wasn't half bad.
This is going to be a long long road but I am looking forward to making this place our home. I hope you can join me on this journey. I'll be writing a lot about my move and trying to survive in 800 sq feet. Look out for more post coming